Hey Gals!!

How you all doin? Hope you all doin' well!

Yesterday, June 21, Last day of EH Grand Sale!~ Wohoo~
After our morning class my Gal friends and I

went to SM Manila to buy some stuff and of course shop at Etude House!~

We have planned that we're gonna shop on their last day sale
well, we have busy schedules so we cannot come on the first few days of the sale.

Okay moving on, before we go to EH we made some lists of the products that we want to purchase. Some of the products are not available like the Face Brightening on my first list, instead of buying the mineral highlighter the consultant recommend me the Aloha Bronzer,


it's super new for me I never used liquid type of bronzer before. As I tested the product on the back of my palm, it works great. it gives the skin a natural bronzy

glow. I will start using it tomorrow and hope it works for me.
Another on my list product is this super sweet Matte Collection!
I been wanting this for a long long time! And luckily it arrives in manila but I missed the orange matte. It's OOS already. Anyway I will be using this for my nail art tomorrow! Yey! So excited~

So here's my gal friends~ Karla, Me, Alynette and April
Sorry for the photo quality, we just used itouch here~ hihi


I want this pink couch!!

It's so kawaii ne?
more pics here~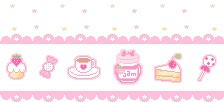 Oh, and I got a free cd.
And that's my haul for EH Grand Sale!

Wooh! Seems like I blogged a lot of Etude House
this June~ am I getting addicted? Waaaa~