Hello Girls!!

Just want to tell you that I used my Etude House Matte Polish!



This is my current nail design.
On my left

on my right
Zoom!! See the Matte?

Super kawaii and unique~
btw, I only used dotting tools and Etude House's Matte collection.


It's very easy to make for like 10 mins or less?

The Matte polish easily dries~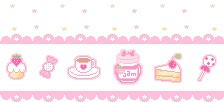 And that's my quick post of the day
~
Hope you like my Nail Design!

Have a Fab July everyone!!
Ciao
Jendee