Last Saturday, my friends and I attended the Lancome

Workshop at Marionnaud. We have classes that day but since we don't feel like going to school because of the BAD WEATHER
and BAD TEACHER

we decided to attend this workshop instead. Haha.
The workshop starts at 2pm~ And they discuss about the skin care routine
Proper cleansing, toning, moisturizing etc.
how to apply make up properly.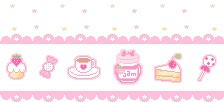 We didn't get a chance to try Lancome's Skin Diagnosis System.
It's too late and there's a lot of people

in the line wants to analyze each other's skin. We just gave them chances to analyze their skin types, skin ages, etc. We are still young anyway!

Ha-ha.
Lancome offers free makeover too,

but as I said earlier the line is too long

so we didn't get a chance to experience the Lancome makeover. Good thing they give us goodies
to try Lancome skin care at home! wee

Amazing Skin care products
Thanks Lancome! I so love the Genifique!

Really makes my skin so light and soft

Will be trying more of your skin care

products soon!
Like
Marionnaud Philippines
on Facebook

After the workshop we still hang at the mall

take some pictures

at the photo booth
Purikura with friends

Ciao for now gals~
This will be my last post for this month
xoxx

Jendee~